Knockdown ELITE are resellers & proud suppliers of deluxe Japanese cut knockdown karate training Gi (uniforms). Cut, design & quality of our Gis are of the highest quality, while retaining the best possible value for money.
ELITE Knockdown Gi are made with a 14oz heavy duty jacket. Japanese cut, 3/4 length arms, no ties. Made of 400 gram canvas fabric, tough, durable & crisp. The jacket is complemented with drawstring loose fit 10oz trousers. Made of 280 gram twill zean fabric, perfect for kicking & designed specifically for Knockdown fighting styles.
We also produce a BJJ Gi & hybrid Knockdown MMA style Gi. Specially designed for Japanese MMA styles such as Kudo, Kakuto, Shinsenjutsu etc. Unlike traditional Knockdown style Gi, hybrid MMA Gi have no separate shoulder piece. The single material cut allowing for throwing & grappling, while retaining the comfort of a traditional Knockdown Gi over use of a BJJ Gi.
Your name in katakana can be included on the lapel of your jacket or on trousers. Either send us a picture of your name as it appears on your belt, or free translation available.
Want to create a bespoke knockdown style, BJJ or hybrid style Gi for your dojo? Simply state the name of your style & any other specific requirements in the Notes pop-up upon order, or contact us by email us at:
info@knockdownelite.co.uk
Please allow up to 28 days for delivery.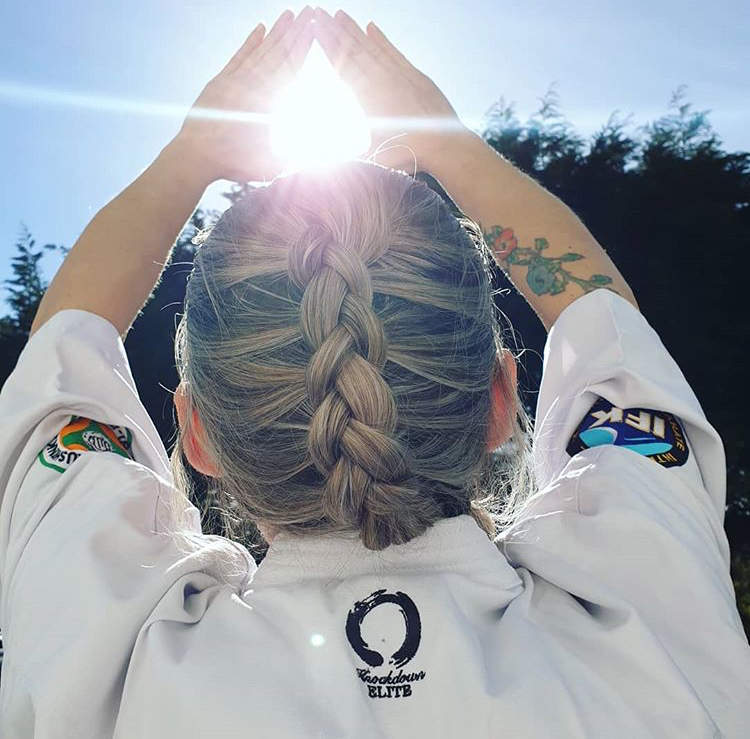 ELITE BJJ - ENSO GI

From £65.00

BJJ Gi: Black/White/Blue/Pink. Pearl weave 550 gram jacket, with Ripstop 300 gram pants.

More

ELITE DIAMOND - MASTER GI, White Bleached

From £60.00

Knockdown Gi. Custom embroidery: Kyokushinkai, Shinkyokushin, Kyokushinkan, Tsuyoi-Ryu, Ashihara.

More

ELITE DIAMOND - STUDENT GI - Bleached White Lightweight Do-Gi

ELITE GI Training Trousers (Any Embroidery)

From £35.00

Gi pants - elastic or cord waist; Kyokushin, Kyokushinkai, Ichi Geki, Shinkyokushin, Kyokushinkan, Kudo, Ashihara

More

ELITE HYBRID - MASTER GI - Heavyweight Do-Gi

From £70.00

Grapple Gi. White/Ivory/Blue or Black available. Custom embroidery: Kudo, Tsuyoi-Kakuto, Kyokushinkai, Shinkyokushin, Kyokushinkan, Kyokushindo, Ashihara, SSJ Dojo

More

ELITE HYBRID - STUDENT GI - Lightweight Do-Gi

ELITE IVORY - MASTER GI, Unbleached - OUR PREMIUM HEAVYWEIGHT DO-GI

From £65.00

Our best Knockdown Gi. Custom embroidery: Kyokushinkai, Shinkyokushin, Kyokushinkan, Tsuyoi-Ryu, Ashihara.

More

ELITE IVORY STOCK KYOKUSHINKAI HEAVYWEIGHT DO-GI

From £40.00

WHEN THEY ARE GONE THEY ARE GONE! TAKE ADVANTAGE OF OUR STOCK SUPPLIES TODAY!

More

ELITE SHADOW BLACK DO-GI - Knockdown or Hybrid Cut (Any Embroidery)

From £70.00

Knockdown Gi. Custom embroidery: Kyokushinkai, Shinkyokushin, Kyokushinkan, Tsuyoi-Ryu, Ashihara.

More